Bedrooms
Bayit residents have the option of living in single, double, or triple rooms on the first or second floor of the house. Each resident is guaranteed a mattress, bed frame, and full size closet, although some rooms do come with extras such as desks, drawers, and night stands.
Utilities
Included in the monthly utilities bill are water, power, gas, wifi, television in the TV room, onsite laundry, and most other essential items such as toilet paper, paper towels, paper dishes, laundry detergent, hand soap, cleaning products, etc.
Kitchen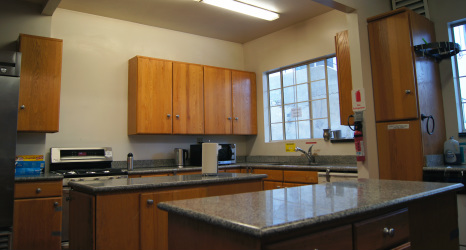 ​The Bayit has a communal glatt kosher kitchen. The kitchen is split in to two sides, one for cooking meat and one for cooking dairy. It is equipped with two ovens, two microwaves, two fridges, two freezers, two sinks, two sets of pots, pans, and utensils, as well as personal and communal cabinet space.

Each Bayitnik is assigned a certain amount of fridge, freezer, and cabinet space for their personal items.
---
Chores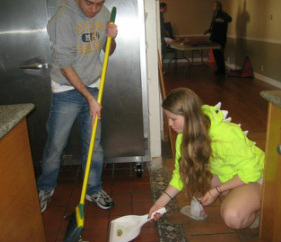 ​Upon signing the living contract, Bayit residents agree to complete house chores twice a week. Chores benefit all residents of the house and create a cleaner, healthier living environment. Sample chores include taking out the trash, sweeping and mopping the hardwood floors, cleaning up trash from the backyard, various bathroom chores, and vacuuming the upstairs hallway.

In order to keep the house extra-clean, a cleaning service polishes-up the common areas of the house once every two weeks.
---
Westwood Village

The Bayit is within walking distance of Westwood Village, which features a variety of restaurants, bars, movie theaters, clothing stores, Ralphs, Whole Foods, Trader Joe's, and Target.